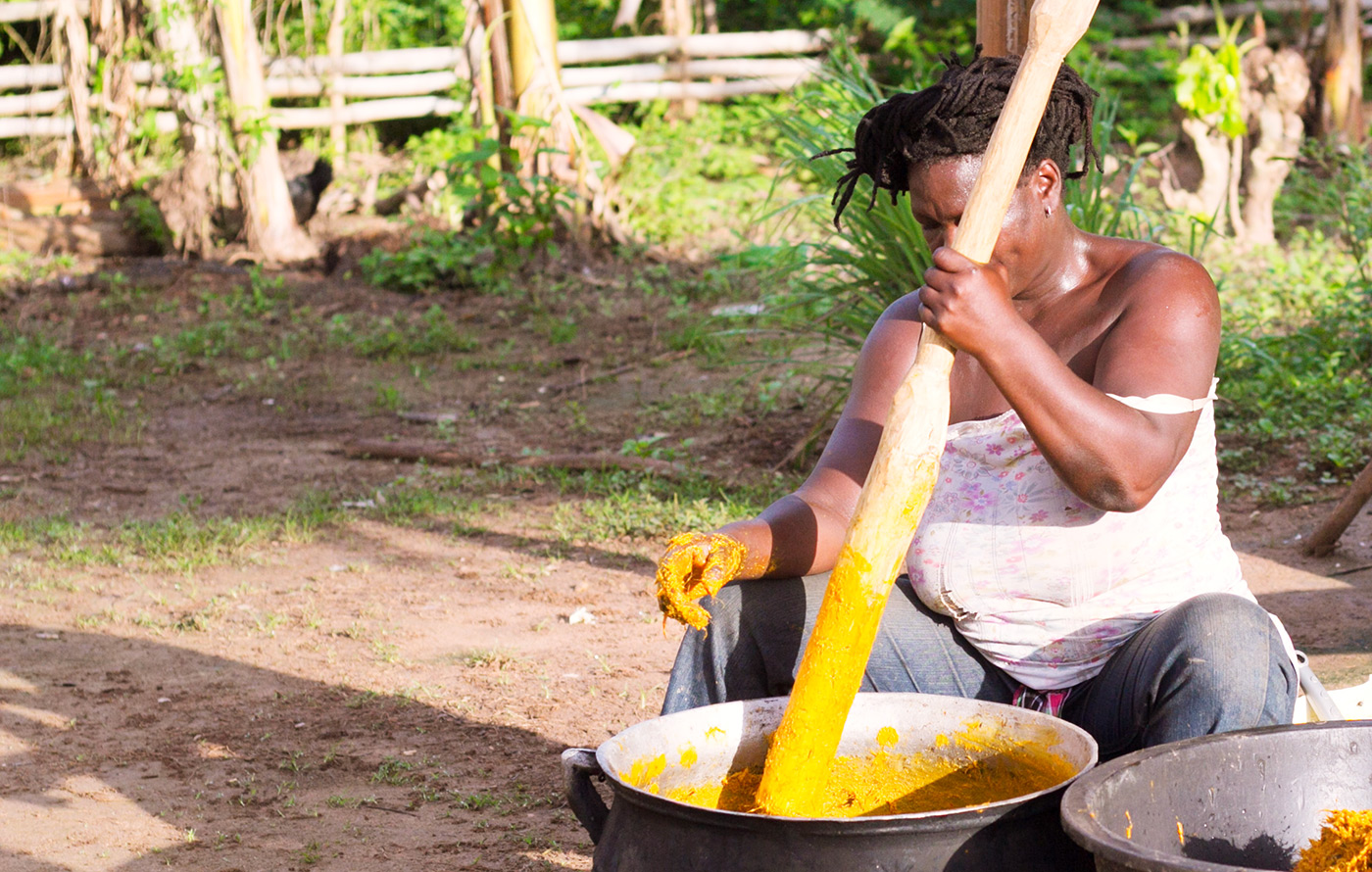 Introducing
the Wote Women
Producers of our Zomi (palm oi) from Liati Wote
Fresh from the Field products: 100% Natural - 100% Trusted Sources - 100% Rural Ghana - 100% Honest - Handcrafted
— Sourced, selected and distributed with love by Jolinaiko Eco Tours in Ghana —
More about the Wote Women
Meet the Wote Women
The producers of our high quality Zomi (palm oil)
The Wote Women are a group of women from Liati Wote, a village in the Volta Region in Ghana. They produce Zomi from hand-picked and selected palm nuts. Their product is known in the region for its high quality.
Fresh from the Field wants to encourage the women in Liati Wote to produce more oil, so they can generate a stable income in addition to farming, to support their families.
Our goal is to get their palm oil in your kitchen. You will be sure to have that delicious pure taste and at the same time you contribute to improving the livelihood of the women in Liati Wote.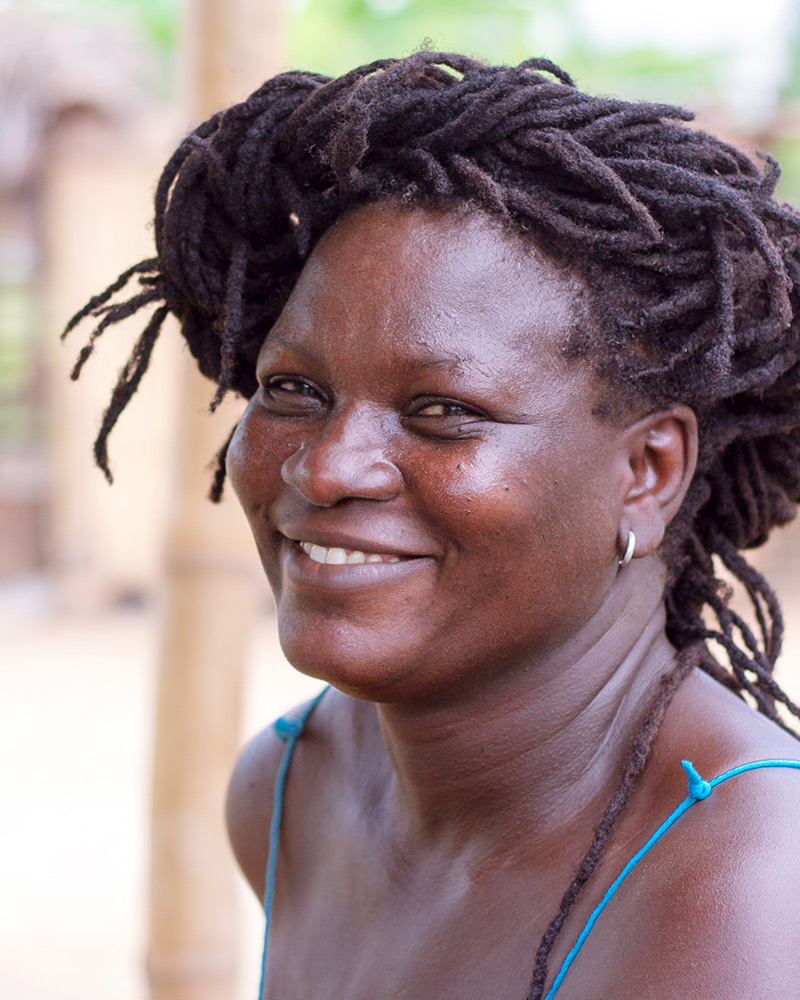 Introducing Patience Akator
Patience is one of the Wote Women producing Zomi in Liati Wote, a village in the Volta Region, Ghana.
" My name is Patience Akator. I am 43 years old, married with 4 children and I live in Liati Wote, in the Volta Region in Ghana.
I have been producing palm oil for over 20 years and I am very experienced. I use only freshly harvested palm nuts direct from the farm, hand-picked and selected for the best and quality of oil. We are known for 100% pure and simply delicious Zomi. "
Our challenge has always been the ready market. Even though we are known for such a good product, it is difficult for us to get it out here.
My everyday motivation in life is health. Once one has good health, there are always opportunities to improve in life and get things done. "
Patience Akator about making Zomi
In this short video Patience introduces herself and talks about the steps involved in producing quality palm oil, and some of her challenges.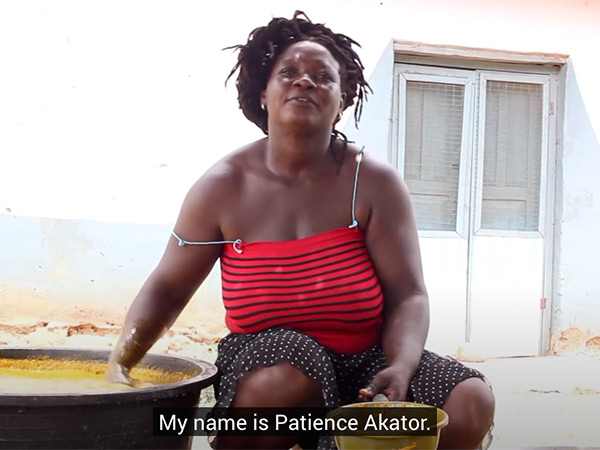 English subtitles are avaible: turn them on with the button below the video.
Palm oil production in Liati Wote
Our Zomi - as palm oil is locally know - is produced from freshly harvested palm nuts direct from the farm. The nuts are hand picked and selected. Below is an impression of the production process, which consists of cooking the nuts, pounding them to extract the raw oil, and then several cycles of cooking and sieving to extract the oil and refine it to Zomi of perfect taste and thickness.
How to buy Patience's Zomi?
We have good news: you can now have the Wote Women's palm oil in your kitchen! Order it at Fresh from the Field and have it delivered (or pick it up yourself) in the Greater Accra region. By buying our palm oil you help the women in Liati Wote growing their business.
50 / 125 / 230 GHC
100% natural palm oil produced from hand-picked palm nuts. Perfect taste and thickness. Supports the women of Liati Wote.
Order
Available quantities & price

1 l

50 GHC

2.5 l

125 GHC

4.5 l

230 GHC

1 l

plastic bottle

2.5 l

plastic container

4.5 l

plastic container

Packaging can vary, depending on the containers that are available to buy/import. Currently the options are very limited to buy quality packaging and glassware. Kindly indicate with your order if you prefer recycled glass bottles instead of plastic bottles.

Currently, we have no webshop. For now, you can order by using:
Customer reviews & Feedback
These are some reviews by our clients. We would love to hear your feedback, which you can leave behind in our feedback form.
You can also email us to let us know what we can improve!
The honey is really good, and the family appreciates it.
Very cool initiative. I particularly enjoyed the forest honey and hibiscus jam. Real and honest products with an exotic touch, especially the honey is something totally different than what you can normally get. Good luck with this!
Bas M.
via Facebook (translated)
The coconut oil is good. I just hope you will be able to get glass bottles for packaging.
I've searched for quality honey since the products in the market are diluted. Finally got my one stop quality honey! I will recommend it anywhere I find myself.
How to order
Please note that we currently only deliver within the Greater Accra region.
At the moment we do not have a webshop. You can place your order in the following three ways: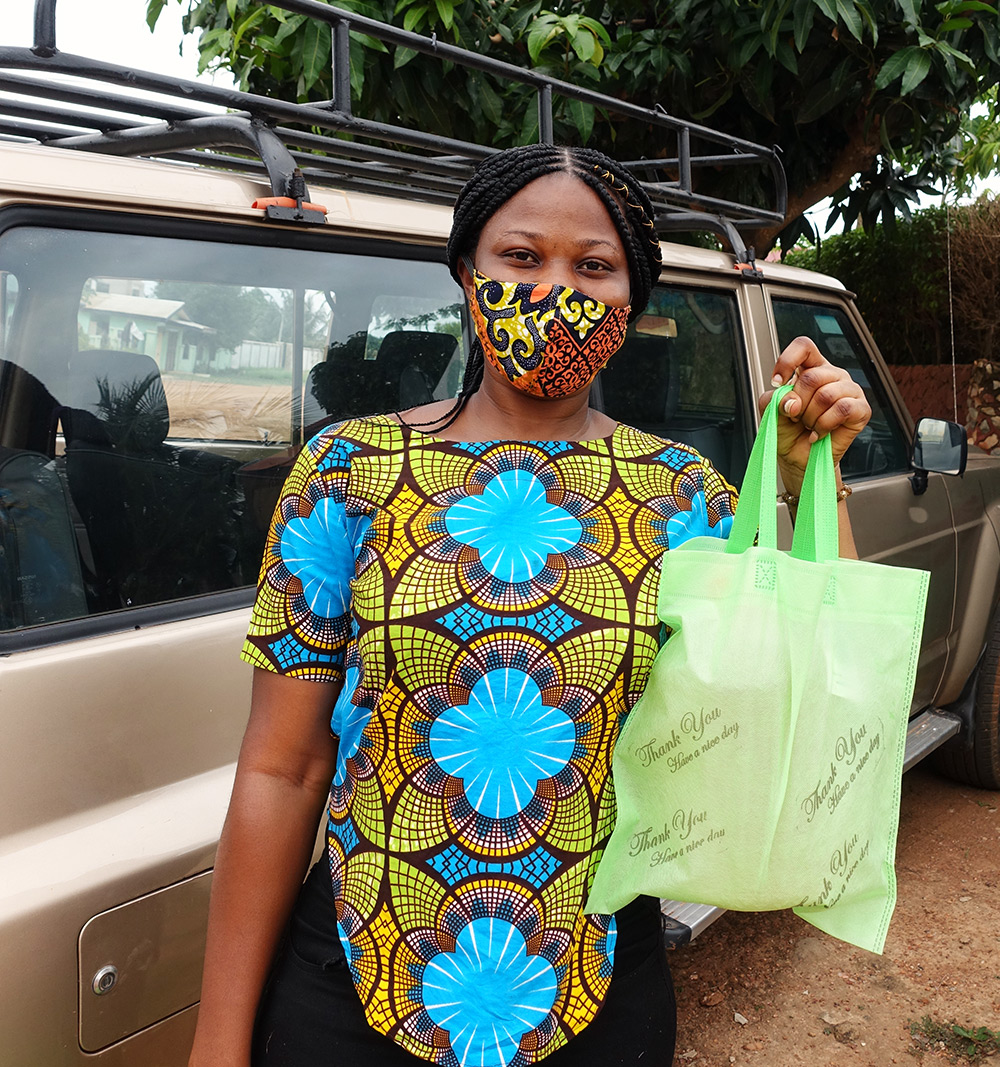 Delivery or self pick-up
You can have your order delivered, or you can pick it up at one of our pick-up locations shown below.
Delivery service
Delivery is done by our own weekly delivery service in which we combine orders, and by dispatch riders.
The best option depends on your location and will be shared with you when you place your order.
Note: currently we only deliver within the Greater Accra region.
Self pick-up
If delivery is not possible at your location or you live nearby, you can pick up your order at one of the pick-up locations shown below.
Please place your order first. For each pick-up location there are specific pick-up dates and times, see below.
We are looking into adding new pick-up locations at strategic locations in the Greater Accra region. If you have good ideas for pick-up points, or you or your company is interested in facilitating Fresh from the Field pick-ups, thereby supporting our cause, please let us know.
Pick-up locations
Currently we have the following pick-up locations available. We strive to add more in time.
Please place your order first. See the pick-up days and times for each location below:
Frequently Asked Questions
How sustainable is your packaging?
Ultimately, we strive towards supplying our products in sustainable and reusable packaging. At the moment we use glass jars and plastic bottles of different sizes. It is a challenge to find the right glass bottles, so as long as we are searching for a solution, we still sell some quantities of our honey, coconut oil and zomi in plastic. On request we can use recycled glass bottles. So kindly share your preference for recycled glass when you order. We aim to phase out most plastic as soon as possible.
How do you ensure good quality and hygienic standards?
We have solid relationships and partnerships with our suppliers, and we are personally familiar with their villages, families, homes and farms. This is essential to monitor basic quality standards.
As a new company, we started by having a basic agreement in place with all our suppliers on personal hygiene and sanitation during processing and packaging.
However, with our in-house knowledge about organic and sustainable certification in both agriculture (shea nut and shea butter processing) and tourism, and our strong values on integrity and sustainability, we are well aware that this is only just the beginning of quality control. Together with our suppliers we will keep working towards a solid, safe and sustainable supply chain as we grow.
Our aim is to have all our products tested and registered with the Ghana Standard Boards to ensure that official quality and safety standards are met.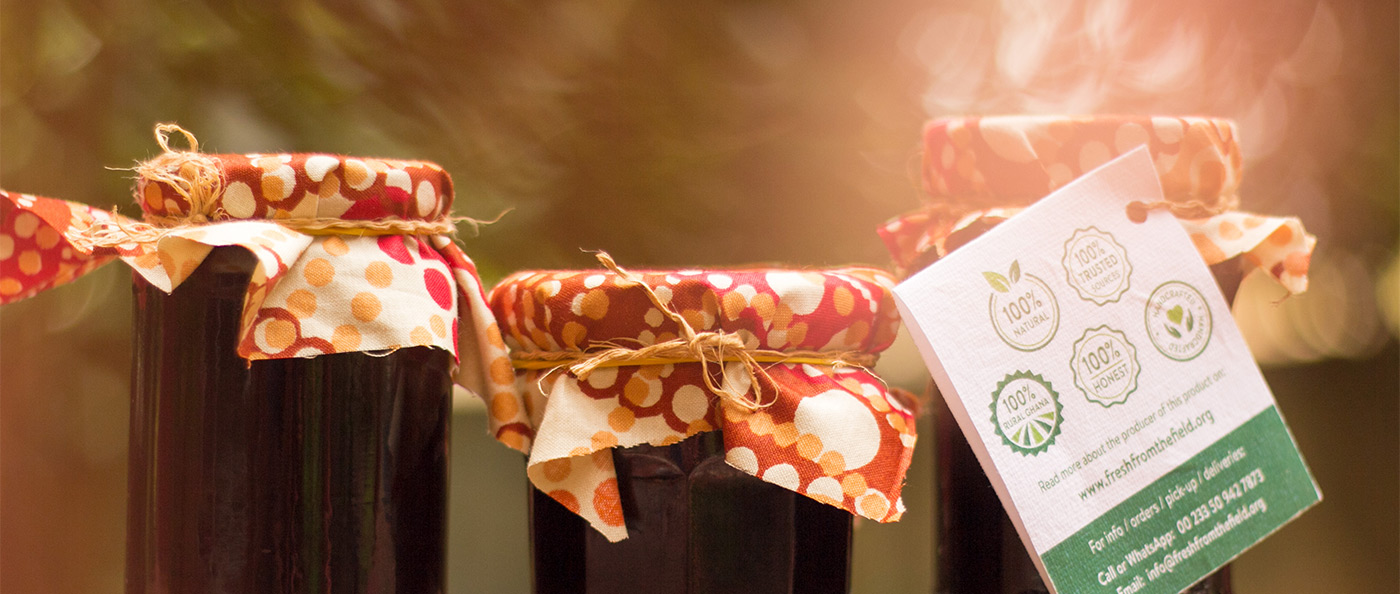 Stay informed via Whatsapp, Facebook and Instagram!
We will post new products, new varieties, special offerings, new pick-up locations and delivery options in our dedicated Whatsapp group.
Leave your number and we will add you. The Whatsapp group is one-way only and cannot be used to reply. You can leave the group anytime.
We will only use your phone number to add you to our Whatsapp group.
Please use numbers only. No spaces, dashes or + signs.
We will also post our monthly promotions on our Facebook and Instagram pages.